dauðadjúpar sprungur
Til Dýrleifar 27.09.2015 - 27.09.2015
2018
This series deals with the personal trauma of loosing my first born, told with black and white images and the text found above. In the gallery they were presented framed by a wall painted in pink and the space was divided by semi seethrough curtains. The exhibition was designed to attempt a more private feeling in the gallery space, both enabling the viewer to hide between curtains and bringing in colours and fabrics usually seen in a domestic setting.
As a heartbeat comes to a halt a new world awakens.
Within the deep folds of this unknown place,
the landscape has grown heavy with symbolism.
The stars carry on carelessly.
Time pretends to pass in conspiracy with the seasons.
Familiar places tainted, cracked.
Shown in Gallery Ramskram in Reykjavik 2020 and National Gallery of Iceland 2022.
Part of the collection of the National Gallery of Iceland.
Verkið dauðadjúpar sprungur á sér rætur í hjartasorg ljósmyndarans, myndavélin fangar það sem brýst um í undirmeðvitundinni eftir barnsmissi. Myndirnar sýna bæði það sem á þeim er og með hvaða augum á það er horft. Sumar marglaga og táknrænar, aðrar einfaldar og auðlesnar en allar eru þær hjúpaðar viðkvæmni og fjarlægð.
Margar myndanna man ég ekki eftir að hafa tekið. Sumar tók ég þegar ég vissi ekki hvað annað ég ætti af mér að gera. Við vissum um að fæðing hennar myndi breyta öllu. Bara ekki svona.
Titill verksins vísar í lagið Sofðu unga ástin mín sem Halla syngur til hvítvoðungs síns í Fjalla-Eyvindi Jóhanns Sigurjónssonar áður en hún kastar barninu í fossinn á flótta frá yfirvöldunum.

Eitt sinn svo hálir
Neita límkenndir dagarnir að sleppa takinu
Lítill hjartsláttur fjarar út
Og óþekkt landslag flæðir að
þjakað táknum
Stjörnurnar kæra sig kollóttar
kannski sjálfar hættar að skína
Ljósið bara ennþá á leiðinni

Sýnt í Gallerí Ramskram á Njálsgötu 2020 og í Listasafni Íslands 2022.
Hluti af safneign Listasafns Íslands.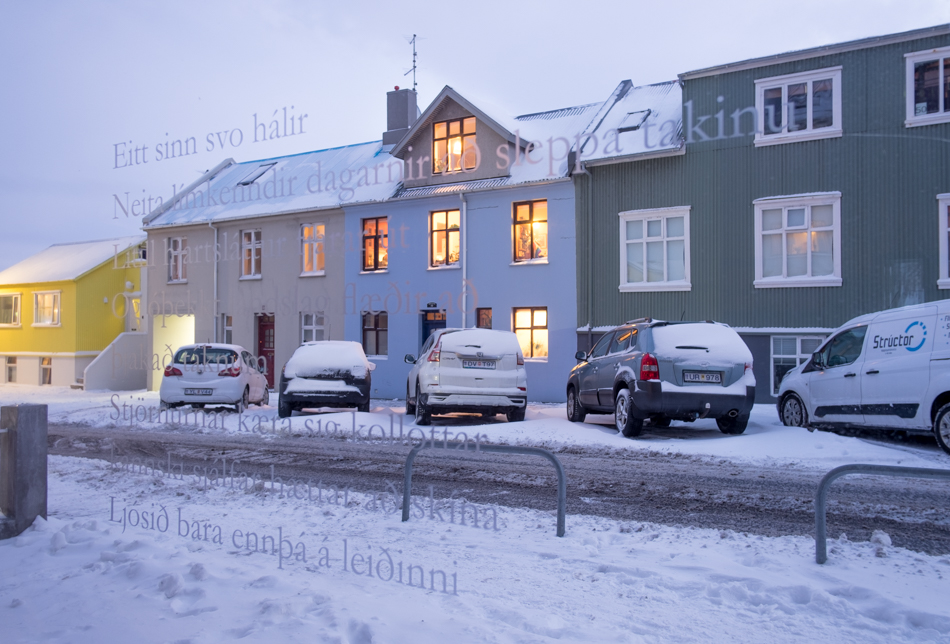 Video of a hand-made dummy for the
dauðadjúpar sprungur
book which is in progress: